Hog Roast Brentwood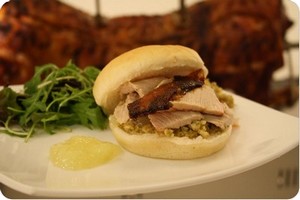 Everybody loves a get together, but very often get togethers are not so much a social event as a key business meeting, dressed up as a social function. These can be crucial events in many different ways. Events such as these can be used to help boost chances of a promotion, set out long term plans and visions for a company or to help secure lucrative deals with new or existing clients.
Given how important events such as these can be, it's important to make the event the best it can possibly be. That means making sure that your guests are made extremely welcome and that every aspect of their evening is special. And of course, this all applies to the food that they are served, too. Serving a fantastic meal at events like this really makes a big impression on those important people, but serve a bad meal and the chances are that you will regret it.
If you are planning a special business function in Brentwood then you really do need to put a bit of thought into what exactly you want to choose as the catering option. Of course, catering can be an expensive option and still cannot guarantee quality meal. What you really need is a proven solution that you know will not only taste good and look good but prove to be great value for money. It looks like you need the hog roast Brentwood option.