Hog Roast Hammersmith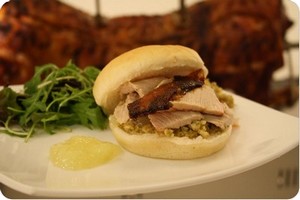 Chef and Griddle is the catering company that does spit roasts best. Hog roasts are our trademark, it's hard to separate hog roasting from our company because just about everyone knows us as Hammersmiths hog roast experts. Catering for all event types, we've carved out a huge number of clients through our consistency in the quest for hog roast Hammersmith perfection. Our main hog roast Hammersmith menu speaks for itself. Roasted pig on floured rolls, and who could forget the sumptuous stuffing and appetising apple sauce to bring out the full flavour of the pork and crackling - certainly not the clients who keep coming back for me!
But there's more, much more. Because the very next menu you can have for your event, regardless of what your event type is because this is a universally great menu, is the spit roast snack menu. The name sort of gives it away, it's a bit like the hog roast roll menu only, well, there are multiple spit roast options as opposed to pig. Instead you can go for other appetising meats, from whole chickens to chicken kebab and spit roast sirloin of beef or spit roast turkey. There's over 5 standard choices to choose from, so that you can find your favourite. The varied selection is especially beneficial for picking for all types of events. Who could argue with a spit roast turkey at Christmas time or a chicken kebab for a birthday party event.