Hog Roast Leatherhead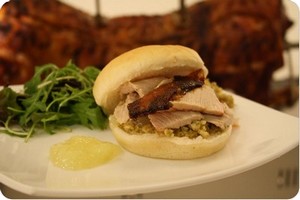 When people who know us think of great hog roast Leatherhead parties, images of roast pigs with a golden hue come to mind, scenes of smiling guests enjoying their event shortly follow, along with a torrent of great memories that were had when Hog roast hire Leatherhead came to their event and made them the most delectable hog roast.
We're a Leatherhead caterer with a relatively long and proud history of making memorable hog roast dinners for our guests. Our name has been apart of catering for a good while and our methods go back even further. Using time-honoured spit roast techniques we conjure up at events the most sizzling, succulent whole roasted pigs. We cater at events of different size and type and we cook whole animal meats and large cuts of meats with our spit roast and tray roasting machines. The whole pigs we cook are scrumptious in every sense of the word and because of the simple, traditional spit and tray roast methods of cooking kilo upon kilo of meat we're more than proficient in cooking for hundreds of people while using just a hog roast chef and a hog roast machine.
Boasting enticing menus that include different spit roast options(such as turkey, beef or lamb) and near endless choices for desserts, salads, starters and canapés what we bring to the table is the complete package - ample amounts of tasty grub cooked by the finest in Leatherhead. The foods from menu to menu change just as much as the serving styles. Formal, informal, sit-down dinners, buffets, you tell us how you want the food served and you can bet we'll have menus already made specifically with that in mind. That's why we're the quintessential hog roast Leatherhead caterer, we've something to please just about everybody.