Hog Roast Letchworth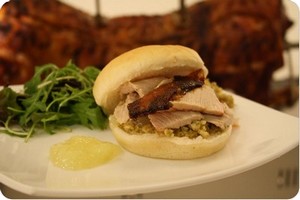 One of the most interesting things about a town like Letchworth is that it is one of the more recent additions to the country. While surrounding areas were recorded in the Domesday book in medieval times, this particular area was purchased by Quakers with the intention of making it into a farming Quaker community. In 1898 social reformer Ebenezer Howard wrote up what he thought would create the perfect town, calling the theory 'three magnets'; the ingredients for what would become the busy town it is today.
Given that Letchworth is built on the idea of farming supporting a town, it is no wonder that customers here are mindful of fresh food. We are proud to cater with only the freshest food and source all our meat from local farmers, never cutting corners for the sake of saving a little money. With us, you get quality every time and we are proud to offer hog roast hire Letchworth from Chef and Griddle.
When you hire our catering, we want to give you only the best. We make all our food from fresh, right before you at the venue. We also cook your hog from fresh too, but if you are pressed for time we can cook it beforehand and warm it through perfectly at the venue. And if there's any meat left after everyone is fed and happy, our chef will carve all leftovers off and set it out for you with soft bread rolls and sauces. We don't like to see good food go to waste, but with pork that tastes so delicious we don't have much to worry about!