Hog Roast Newmarket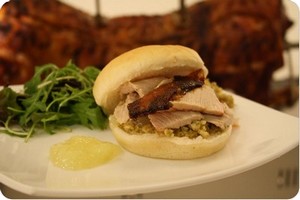 There are many great sporting locations in the United Kingdom, however we tend to refer to these by their stadia name, for example Anfield or Old Trafford, but there are not many towns that are synonymous with the sport that is so often held there. Newmarket is one such place.
Newmarket is of course known throughout the world as one of the best racecourses in the world and it has becoming something of a racing town to its core being home to over fifty racehorsing stables. And with the price of a top racehorse running into the millions, that represents something of a major industry. It is even home to some of the racing world's biggest names including Frankie Dettori and Sir Henry Cecil. Newmarket is a market town with some pedigree.
If you are looking for special catering with a fine pedigree then they don't come much better than a hog roast. Hog roast really is a fine old feast of some distinction that was enjoyed by societies more privileged dating back to Medieval times. But as the centuries rolled by, hog roast's popularity seemed to wane until it becoming something of an endangered species in catering circles. Thankfully, it looks like things are changing for the better in the catering world and hog roast Newmarket events are starting to become quite the thing to do.