Hog Roast Norwich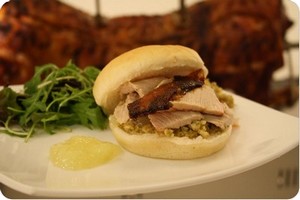 If you live in the city of Norwich then you may just get a little fed up with what many outsiders say about the place. They may just talk about the football team (and why not, they are an excellent team) or they may talk about Delia Smith and her infamous 'let's be having you' half time outburst, or maybe about mustard? Well, there's no reason to be fed up about this because Norwich can be rightly proud of all those things and a lot more besides.
Norwich is a proud city with a very rich history spanning hundreds of years. It was also England's second city for a long time, though a population of some one hundred and forty thousand means that is no longer the case. Still, Norwich is considered the hub of Norfolk and is very much a thriving city. Something else that is thriving in the city is the rise in popularity of a certain Medieval dish and it is helping liven up events, special occasions and corporate functions throughout the area. Have you heard about the hog roast Norwich phenomenon?
Okay, maybe the word phenomenon is a bit strong, but when something comes from out of nowhere then you have to start considering the use of such words, because the rise of hog roast hire Norwich events is something that has taken everywhere by surprise. On the other hand, people like our friend Delia would argue that it is about time that the humble hog roast made a triumphant return. Well, it seems that it has done exactly that.
A hog roast Norwich event represents the very best way in which to not only provide your guests with some of the very best food you can get in the catering world but it also gives you a visually stunning option that shows your guests that you really care for them and want them to have a fantastic evening. You may be thinking that this all sounds very expensive and extravagant and you'd be right, it does sound expensive...but it is not.