Hog Roast Potters Bar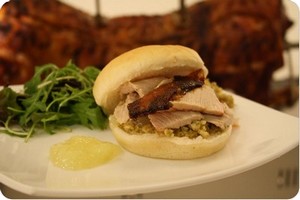 Potters Bar is a nice town – not a large town, and not a small place either. It has seven churches and in its history three rail accidents have happened here. There's stuff to do here – a leisure centre, cricket, football, museum and cinema. So there is lots to do here, but some areas have a real village-like feel, with small independent retailers and quiet streets. Potters Bar also has a claim to fame as the location of two scenes in Matt Lucas' and David Walliams' comedy sketch series 'Little Britain'.
We are hog roast Potters Bar caterers. We do hog roast Potters Bar events which includes bread rolls, crackling and condiments) and for those who prefer to do it themselves we offer hog roast hire Potters Bar, where you can just hire a hog roast machine from us.
It is fun catering around Potters Bar because you get to met so many different people. Take today, for instance. First, we delivered a hog roast machine for a celebratory lunch inside one of the independent shops. They were celebrating the acquisition of a second shop in another town. We found the shop easily and wheeled the machine in. Then we had to carry it up a flight of stairs. That was difficult because the machines are heavy, but we managed it; it's not the first time we have had to do this here at hog roast hire Potters Bar. Then we wheeled it into the room they wanted it in. We plugged it in and checked it was working. There were around 30 people squished into that room, while a couple of staff held the fort in the shop floor downstairs. Then we came back to our premises.
The receptionist informed me that there had been a customer enquiry in the time we were away, and he was unsure about an aspect of the enquiry. I called the client back and we hashed out the details. It was for a community event sponsored by a local nonprofit group. After we'd sorted everything out, I made a note of it and got back to some paperwork. We are always busy here at hog roast Potters Bar.