Hog Roast Shepton Mallet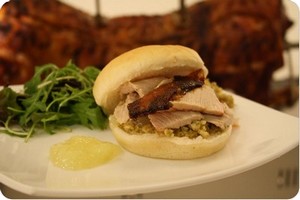 The Chef and Griddle team visited Shepton Mallet this week. Home to the companies which produce Babycham and Brother's Cider, there are several breweries dotted about the town, manufacturing some of Britain's best loved alcoholic beverages.
However, the town is probably more well-known as the location for the BBC's 'Turn back time – the high street' which brought old-fashioned shops, run by local families, back to the high street. The families were encouraged to use traditional methods to produce goods and were expected to run the shops in a specific way that tied in with the time period for that week. It was certainly interesting watching! As a caterer it was fascinating to see how the butcher's trade had changed over time. What is wonderful about working for Chef and Griddle in the hog roasting industry, is how very little has changed when it comes to cooking our meat.
While our tried and tested hog roasting method is always a success, the ways in which we season and prepare the meat is always undergoing change so that we can guarantee the best flavour possible. Hog roasting is the most traditional way of cooking meat and our hog roast Shepton Mallet combines this long-established method with brilliant new technology. Our hog roast hire Shepton Mallet is of the best quality and we use the most up to date machines to roast our meats.