Hog Roast Tetbury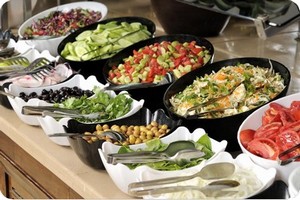 When it comes to the town of Tetbury, you could say it is 'blooming' lovely. Why? Well the town has the honour of being the winner of the Heart of England in Bloom competition for five consecutive years, which certainly is an achievement to be proud of for this Gloucestershire town.
If you live in and around the Tetbury area then you and the five thousand or so residents of the town will know very well what a lovely part of the world this is. But Tetbury is not just all about looking good and being a great place to live. The residents of Tetbury have busy lives to lead, and that also means that there are events to celebrate and business events to organise. And if you have the task or organising just such an event then it may be time to think long and hard about the catering you want for your event. It may just be worth thinking about making it a hog roast Tetbury event.
Hog roast is the new and fashionable answer to all event catering nightmares. Make your event a hog roast hire Tetbury event and you will be treating your event guests to something very special and certainly a refreshing change from the usual sad excuses for catering.
So why has hog roast suddenly come from nowhere to be regarded as one of the nation's favourite catering solutions? Well, it is hardly a sudden development. Hog roast never really disappeared but it certainly wasn't high on people's lists of catering solutions. This is probably because many people assume (quite wrongly) that hog roast was a very expensive option and out of reach of most catering budgets. This is a shame because, despite looking very extravagant, booking a hog roast hire Tetbury caterer is actually one of the more cost effective catering solutions currently available in the UK.