Hog Roast Warlingham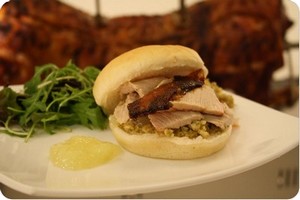 Warlingham in Surrey is a tiny village whose most recent claim to fame, if you want to call it that, is that most of the Battle of Britain was fought in its skies. Warlingham forms a corridor in the Surrey countryside that German war planes would take to get through to London. There are two RAF bases nearby as well. But today, it's mainly home to people who work in London and commute to work. In the main portion of Warlingham is a Village Green where a war memorial stands to commemorate the brave WWII soldiers who fought the Battle of Britain. It was on this village green that a celebration was to take place in respect of these men and women who fought so bravely. And it was for this celebration that I was hired to cater a hog roast in good old English style.
Not knowing how many people to expect, I brought along my Zeus Professional Hog Roasting Machine which I'd purchased some years back. The Zeus is an absolutely incredible machine for durability, ease of use, and spectacle. I purchased a locally-grown and fed hog and brought along a couple big sacks of potatoes so that I could roast a load of jacket potatoes inside the Zeus. The machine couldn't be easier to use, or to manoeuvre on uneven terrain, but at the point when you're ready to heft an 80 kilo hog onto the spit, you do need a bit more backbone than one man can provide! My assistant was on hand to help with this as well as to ensure that a table of worthy hog roast condiments was set up next to the Zeus so that people could put together their own idea of heaven on a bun. I like to make sure there's always plenty on hand so that everyone can make delicious combinations. So there's always piles of plates and cutlery; warm, soft buns; lashings of homemade applesauce; sage and onion stuffing; and sauces for both sandwiches and potatoes.