Hog Roast Nottinghamshire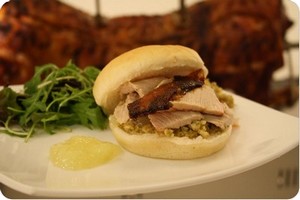 Nottinghamshire is famous for many things; its many wonderful attractions, its beautiful rural areas as well as bustling urban towns and cities and of course Robin Hood. But now it is becoming famous for something else.... It's becoming well know for the amazing hog roast feasts that we have been serving up all over the county. The traditional hog roast feast is not a new idea its a classic option that dates back many years in fact I'm sure Robin Hood himself would have enjoyed an early Nottinghamshire hog roast! However its only in the last few years that they have grown in popularity and become the firm favourite party food for anyone who knows their stuff.

Not only have they become so sought after but now the quality of the hog roasts available has also greatly improved. The reason for this is simple the hog roast caterer team have arrived on the scene to save the day and put quality and taste back on the agenda. When it comes to hog roast catering we don't cut corners we do everything the right way using only the best produce to bring the people of Nottinghamshire the finest hog roast possible. We use the best pigs from farmers in the surrounding area and cook them to pure perfection. Once its time to serve up the perfect pig we team it up with only the finest side dishes and extras. Salads and vegetable dishes created by us using locally grown fruit and vegetables, bread rolls fresh from the local bakers oven, and relishes and sauces that have been handmade by the hog roast caterer team.