Hog Roast Somerset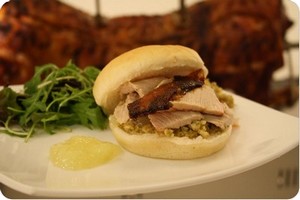 Do you ever feel like the event caterers out there just don't 'cut the mustard?' Well you no longer have to settle for second best any more, as Hog Roast Somerset gives you the very best when it comes to hog and spit roast catered food – all roasted and served at your own event! By adopting the cooking method which is closest to our hearts (and our taste-buds) our clients have been able to benefit from our culinary skills from over a decade now. The simple truth is, that when you are having a catered event, the food is of absolute paramount importance – something which should be obvious to all caterers; but unfortunately isnt.

From Taunton through to Yeovil , our hog roasted and spit roasted catered events allow families and friends to really maximise on the quality of their 'down-time' and time together in general. Among those who love to work hard and to concurrently play hard, we think its a crime for peoples events and occasions to be serviced by those who are simply average. The first step in our culinary mission is to provide meats which are simply and beautifully delicious. By flame roasting, slowly, our exceptionally reared and sourced whole meats, our clients and customers from all over Somerset get to indulge in meat which is the best that it can be.

Over thousands of years, the slow, flame roasted approach towards the preparation and cooking of meat has not been bettered in approach than by slow roasting over flames. It has withstood this test of time for one stark reason; that it is the best way to get the most from meats. Through this manner, the bones and allow for lovely bastes to be produced – keeping meat moist. Able to cook for hundreds and hundreds of people with consummate ease is just one of the tools and weapons in our culinary arsenal. By providing the weddings, corporate events and private functions all over Somerset with stunning food, we have grown and grown. Come and join us.